A Story in Each Piece
"I hope that in sharing these symbols, which have helped build my character and sense of purpose, that you will begin to contemplate the shape which you want your life to grow."
Read More
Handmade Collection
We believe that you can empower anything you want in life, and we pour this belief into every bit of our work. Each piece is designed with Jewel, and then intricately crafted by hand with the spirit of friendship, generosity, and kindness.
Shop Now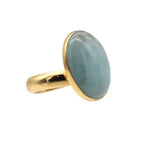 Oval Shaped Aquamarine Stone approximately 0.75" x 0.5" Adjustable band in Gold Alchemia Natural Stone.  Sizes and colors will vary. Alchemia...
Learn more
Dedication is the unwavering flame that transforms aspirations into accomplishments, igniting the path to greatness with heartfelt commitment and unwavering...
Learn more